The Way We Wait
(2020, 11')





Desperately building against the inevitability of time, a restless young woman is awaiting another upcoming loss. But maybe more important things never seem to be told. / Soon after the director moves into her 22nd house, she gets a phone call that her Grandma, who lives far away, is in a critical condition. Elsewhere, a huge apartment made of sand is being constructed as the tide rolls in, while she belatedly tries to build a relationship with her Gran. As the camera sensitively observes how we wait for the upcoming days, the film embraces the fragility of life, full of uncertainty.


(The film interconnects disparate images—my grandmother's hospital, her impermanent house, and the process of building a sandcastle that is not even likely to barely survive from the waves of the ocean. This whole process seems to be a desperate attempt to delay the moment of sadness in the near future as much as possible. It is a film about the coming loss, but at the same time, about hope as well. Losses are always with us even in this moment, but here, by properly looking and documenting the process, I wanted to share that life is not in such an emptiness as we think it is. It was an intent to connect the far future and the distant past, overcoming the current context of loss or uncertainty by leaning on that vastness of time. - director's notes)
© JiYoon Park. Embedding, unauthorised copying and replication are prohibited for this video & images.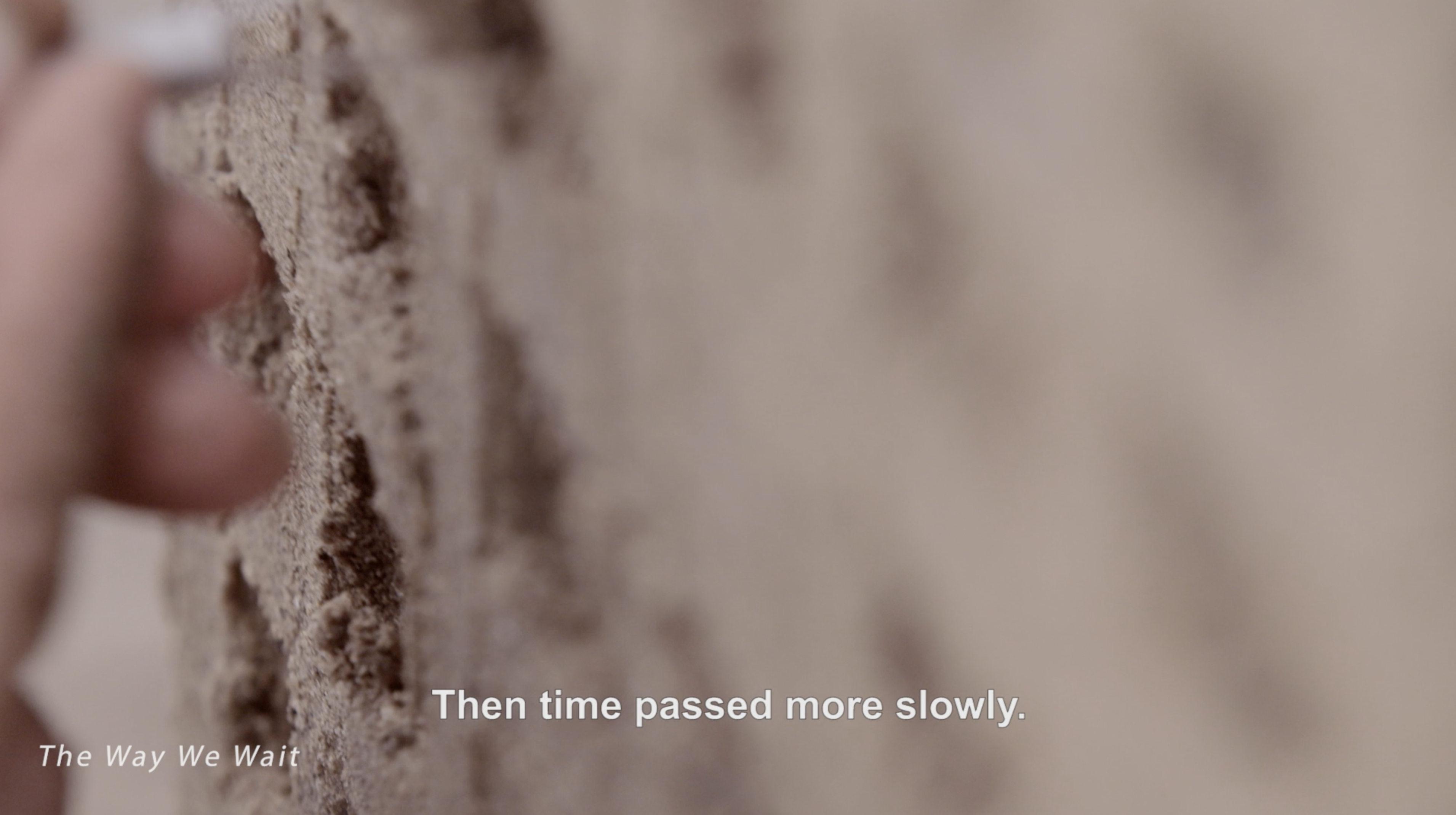 "The short film 'The Way We Wait' uses the traces of space and corporeal disappearance to talk about memory and vital fragility." (...) "Through narrative and visual conventions, JiYoon Park establishes the possibility of shaping time through the camera despite the inescapable course of nature: the tide that is approaching." (...) "Imagination, dreams, memories and daydreams are key factors for the creation of the image. From the dream story, the filmmaker weaves the images to expose the fragility of time and being." (...) "In a phenomenological narrative of accompaniment and the moment, grandmother and granddaughter support each other; the past no longer matters and the future will flow." (...)

- written by Daniela Ruiz Cerquera (Correspondencias Cine) ︎︎︎read the full article (in Spanish)


<<Hearing upon the news that her grandmother is in a critical condition, the director juxtaposes her grandmother's footage and the process that a small sand apartment is built on a quiet beach. There may not be any logical relevance between the two images. However, a loose correspondence can be found in building a relationship in a limited time before death and building a sand house that will soon be collapsed. The two images aren't just what they appear to be but represent an attempt to compensate for the loss in her absence in the future while the completed sand building alludes to the fact the grains of sand will be swept away by the waves. The film attempts to perceive the external from the personal, and the incompleteness of the present from the present reality.>> - written by Lee Minho(DMZ Docs)

<<Shortly after moving into her 22nd house, Ji-Yoon Park receives a call: far away her grandmother is in the hospital, in critical condition. Too late, the director realizes that she should have nurtured her relationship with her grandmother earlier. "I've always been chased by time," the restless young woman says. "I've needed to run harder not to be swallowed." Now, she doesn't know how to spend time with her grandmother. "So I was left holding the camera." In parallel with scenes at the hospital, on the seashore an apartment building is being sculpted from sand—in vain, as its destruction is inevitable. The tide is approaching and slowly nibbling at the foundations. This house of sand mirrors events at the hospital. Sensitively observing as she awaits the imminent loss, the filmmaker embraces the fragility of life, with all its uncertainty. "What I grasp today, easily shatters tomorrow.">> - written by IDFA